Weight stigma, also known as weightism, weight bias, and weight-based discrimination, is discrimination or stereotyping based on one's weight, especially larger or thinner people. Weight stigma reflects internalized attitudes towards body size that affects how those who are the targets of bias are treated.
A person who is stigmatized possesses a weight that leads to a devalued social identity, and is often ascribed stereotypes or other labels denoting a perceived deviance which can lead to prejudice and discrimination. Some common "weight-based" stereotypes are that obese persons are lazy, lack self-discipline, and have poor willpower, but also possess defects of intelligence and character. Pervasive social portrayals of people of larger body size create and reinforce biased attitudes.
Research has documented that physicians are the #2 source of weight stigma. Weight stigma has also been demonstrated in nurses and medical students, psychologists, dietitians, and fitness professionals.
Rebecca Puhl of the Yale Rudd Center for Food Policy and Obesity illustrates in the Cycle of Bias and Obesity the pursuit of help followed by the avoidance of help, likely caused by the stinging, invasive weight bias experienced by the patient. The patient may not know they were subject to weightism, and may even believe that the shaming, unhelpful remarks are warranted, deserved and appropriate, and that they are even less valuable a person and therefore avoid the doctor and pursuit of health care altogether.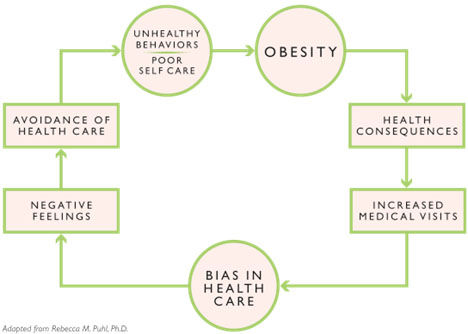 The person experiencing weight stigma is in a bind. They may seek assistance from healthcare or other providers, but the "help" can in fact reinforce and intensify shameful feelings the person experiences on a day to day, moment to moment basis. This leads to avoidance of health care, and even turning to food and bingeing to dissociate from this painful experiences.
When well-intentioned providers "prescribe" simplistic, behavioral weight loss plans (the typical eat less, exercise more mantra,) the individual with Binge Eating Disorder feels even more powerless. Not only is their shame exacerbated, their illness is being mismanaged, and they enter into a hopeless-helpless paradigm.
The truth is Binge Eating Disorder is a mental illness, and requires treatment that addresses the bio-psycho-social issues that contribute to the development of an eating disorder.
A patient told me that a physician once told her "You're fat everyday so you should exercise everyday." This statement is grounded in ignorance. It was not helpful. Worse yet, it was harmful and might have contributed to further avoidance of healthcare, shame, and ultimately, bingeing. Thankfully, this patient knew better. She found another healthcare provider rather than blame herself or avoiding the help she desperately needed.
Weight Stigma is perhaps the most recent, socially acceptable form of discrimination. I am thrilled that BEDA and NEDA are spreading the word on the insidious, destructive reality of weight stigmatization, a current reality of modern society and modern medicine. I hope we will be able to look back one day and realize how far off medicine once was, and recognize instead that attitudes and approaches founded on compassion, love and science are how we heal our patients.
© Wendy Oliver-Pyatt, MD, FAED, CEDS
For more information about Oliver-Pyatt Centers and Embrace, a Binge Eating Recovery program at Oliver-Pyatt Centers, please contact admissions, subscribe to our blog, visit our website, and connect with us on Facebook, LinkedIn, Twitter, and Instagram.
.