Oliver-Pyatt Centers Director of Nutrition Services Mary Dye, MPH, RD, CEDRD, LD/N alongside Lead Facilitator of OPC's Binge Eating Disorder Programming Leslee Gillette, LMHC will be presenting "Binge Eating Disorder: Helping to Heal in a Diet Focused, Weight Phobic World" on June 9th. Together, these dynamic presenters will provide information and insight for effectively treating BED across levels of care. Proper assessment, diagnosis and treatment of this increasingly prevalent disorder will be explained through current research and case studies. Special focus will be given to nutritional complexities, the cycle of shame and special considerations facing this population across the weight spectrum. Mary and Leslee will share innovative therapeutic interventions and exposure therapies for both group and individual settings. This presentation will be primarily didactic and will include opportunities for audience participation and self-reflection with the goal of each participant gaining new tips, tools, ideas and insights to put into practice when treating clients struggling with BED.
Through this presentation, participants will be able to accurately define weight cycling and the cycle of shame in binge eating disorder and recall and explain at least two techniques on how to provide feedback to clients with BED during exposure therapy. Participants will also learn to identify an instance of weight bias in their own practice and describe the impact this has on clients with BED seeking and obtaining proper treatment and explain the impact that messaging from treatment providers has on clients with BED. Last, participants will learn to identify one method to better align their own messages with their intended outcome in their practice.
"Binge Eating Disorder: Helping to Heal in a Diet Focused, Weight Phobic World" will be held at the Radnor Hotel in Wayne, PA on Friday, June 9th from 8:30-12:00pm. Breakfast and 3 CE hours will be provided. Please contact Regional Outreach Manager Tamie Gangloff (tgangloff@montenidoaffiliates.com) for questions and to RSVP!
For more information about Oliver-Pyatt Centers, please call 866.511.HEAL (4325), visit our website, subscribe to our blog, and connect with us on Facebook, LinkedIn, Twitter, and Instagram.
In the field as a whole, we are finally starting to see a paradigm shift from the idea that you can spot an eating disorder on the surface, to the understanding that eating disorders actually manifest in all different types of bodies. Thankfully, individuals with Binge Eating Disorder (BED) are seeking treatment for an issue that otherwise thrives in shame and secrecy. With a more diverse milieu at the residential, partial, and intensive-outpatient level of care, it is important that as treatment providers we work to keep constantly crafting spaces and implementing treatment protocol that feels safe, supportive and recovery oriented environments for all of our patients. At the Oliver-Pyatt Centers, a Monte Nido and Affiliates program, Leslee Gilbert, LMFT and Mary Dye, MPH, RD, CEDRD, LD/N are providing specialized clinical and nutritional protocol for individuals who admit with a diagnosis of BED and training staff to best support individuals on this end of the eating disorder spectrum.
A client who walks through our doors seeking recovery from BED is offered the multidisciplinary and highly individualized care as all of our patients. At Oliver-Pyatt Centers, Primary Therapist, Leslee Gillette runs a BED breakout group once a week. As with all eating disorders, it is clear that shame is a huge component of the illness, and for clients in larger bodies, this shame can be particularly magnified when seeking treatment for an eating disorder. With the still somewhat pervasive stereotype of an eating disorder being a thin calorically restrictive female who has a diagnosis of anorexia nervosa, asking for help can be that much harder for an individual struggling with binge eating who may be in a larger body. Often times, such clients share that despite the pervasiveness of their eating disorder, they were very hesitant to seek treatment The breakout group works to help individuals develop compassion in relating to self and others through what is being experienced in treatment- a microcosm of what is often experienced in the outside world.
The nutritional work in the treatment of clients with the diagnosis of Binge Eating Disorder is the same as the work with all other clients in that the main objective is to legalize and normalize all foods. Contrary to what many of our clients have tried time and time again before seeking out treatment, we do not set out to change weight, rather we focus on cessation of disordered behaviors, work to heal the relationship with food and work toward the goal of sustained health and wellbeing.  As anyone with an eating disorder, our clients with BED present with a myriad of medical complications that result from malnutrition. The work of our team is to help individuals eat and move in a way that results in stabilized markers of health such as blood pressure, cholesterol, and insulin levels. This regulation is achieved when an individual is eating and moving in a consistent, and stable way. This does not mean that certain foods are cut out from a person's diet, on the contrary, an individual with a diagnosis of BED will sit down at a meal and have the same food served to them as anyone else at the table. All of our clients work through individualized dietary exposures and for clients with BED, this often means confronting go-to "binge foods". By eating in this way, we are able to not only challenge and diminish shame around meal times, but help individuals connect to mindfulness cues such as hunger, fullness, and satiety that help them make informed dietary choices for themselves.
With clinical support for the program, Leslee and Mary have been able to offer support to the team of recovery coaches, the individuals who spend the most one-on-one time with clients and help them understand how to provide redirecting feedback that is non-shaming, helpful and compassionate. Similar training is being provided to all staff that focuses on empowering staff to feel confident in offering supportive challenges to all patients. Some of this training includes details that might be overlooked such as the arrangement and type of furniture offered. The goal is to help all individuals feel like they are supported in confronting their eating disorder and that full recovery is a possibility for all bodies.
To learn more about specialized Binge Eating Disorder programming, please reach out to Admissions at 888-228-1253.
For more information about Oliver-Pyatt Centers, please call 866.511.HEAL (4325), visit our website, subscribe to our blog, and connect with us on Facebook, LinkedIn, Twitter, and Instagram.
Oliver-Pyatt Centers Clinical Director Stephanie Diamond, PhD, CEDS specializes in eating disorders and personality disorder co-morbidities. In her writing, Dr. Diamond shares a glimpse into the inner world of someone struggling with an eating disorder and about the importance of self-compassion in eating disorder recovery.  
Think about your own inner dialogue. Is it kind, gentle, friendly? Is it aggressive, rejecting, demeaning? Both? Neither? For the less fortunate among us, self-critical thoughts come automatically, while thinking kindly about oneself might feel inauthentic or indulgent. Why is it some of us struggle to treat ourselves in the manner that we might treat a friend?
The inner world of someone with binge eating disorder (BED; or any other eating disorder) can often be an unfriendly place. The stream of consciousness thoughts within the mind of the person who is struggling tend to be skewed toward self-critical, self-deprecating, and self-blaming statements. The person is fairly constantly under siege by these negative, judgmental and disapproving and shaming thoughts about self. Ah, shame… what a dark and haunting emotion. Shame is a destructive emotion that makes us feel less-than and fosters isolation. The eating disorder enters as a way to manage the shame, and often exacerbates these feelings. It is a nasty positive feedback loop. And it is no coincidence that shame is often a main target in psychotherapy during the treatment of BED.
How do we target shame, you ask? Well, there are many ways we can work to take that terrible monster down! Have you heard about self-compassion? It is about self-kindness, it is about recognizing our humanness, and it is about mindfulness of reactions to our painful thoughts and feelings (Neff, 2003). And, amazingly, self-compassion may just be the best antidote to shame.
Don't worry if you find yourself self-compassion-deficient. You are not destined to remain that way, as there are methods for you to develop more! Self-compassion is not an all-or-nothing thing. It is not about "having" or "not having" self-compassion. Self-compassion exists on a continuum, and like anything worth having, it takes work and practice. How might your life be different if you were a little kinder to yourself? What might change? Can you dare to imagine…? Might you have more patience with yourself; might you befriend your body; might you forgive a mistake you made?
Let's not forget that when it comes to eating disorder recovery, the very act of honoring your body's hunger and fullness cues is an act of self-compassion. The practice of self-compassion can make all the difference in helping a person bridge from self-destruction to self-actualization. We need to nurture a self-compassionate voice to counter the self-critical one, otherwise, recovery will likely remain out of reach.
So, what can you do today to nurture some gentleness and loving-kindness towards little old you? You deserve it!
For more information about Oliver-Pyatt Centers, please call 866.511.HEAL (4325), visit our website, subscribe to our blog, and connect with us on Facebook, LinkedIn, Twitter, and Instagram.
Oliver-Pyatt Centers Primary Therapist Lisa Jimenez, MS works closely with clients suffering from eating disorders, specifically Binge Eating Disorder. She discusses our society buy in to the ideal "thinner is better", and offers some strategies to embrace your body, no matter the size.
Everyone knows that feeling. You wake up, look in the mirror, and don't like what you see. Bad body image, its the worst. For our women in larger bodies there seems to be an added layer. Not feeling our best, we turn to someone we love for some validation and get the dreaded response, "don't worry, the weight will come off". Hmm… that didn't really help. What about my body now, right as it is in this very moment? Will people not like it? Will they think I'm too much?
We live in a society that idealizes the thin body. Those closest to us, the ones we care about most deeply, often buy into this misconception as well: thinner is better. We search for validation and acceptance in a body that's beautiful and curvaceous, however one that others may not idealize and may not strive for.
As a larger bodied woman working with clients seeking treatment for Binge Eating Disorder (often larger bodied, however, not always the case) I've gathered tools both in my personal and professional life to help combat bad body image. In a society that idealizes thinness, some of these steps may be hard to believe, however, I can say confidently that they work. So why not? Be your own advocate. Give them a shot!
Get inspired. There are many amazing, body positive women all over social media speaking up. Add them to your Instagram, Pinterest, and Twitter! Flood your feed with women of different body shapes, colors and sizes. Who wants to see the same image over and over? There's beauty in diversity.

Remember your unique worth. You're a lot more than your body. Think about your values, your interests, all those people in your life that love you greatly. There's so much to be excited about!

Practice body gratitude. This one can be hard, but it is key to body acceptance. Do you remember that cool move you did in Zumba the other day? Yeah, that was your body doing its thing. How about those Latin genes seeping out of your curves? Personally, I like to reflect on how my body connects me with my ancestry. Wherever you're from, your body is part of your history. How cool is that?

Rock your style. I know it may be hard to find a wide variety of sizes in retail store, but there are some fun, stylish brands online. Order yourself something cute. Spend the money. Feel good in what you're wearing! You deserve it. For now, rummage through your closet and thrown on an outfit you feel good in,

Nourish yourself. On a day where body image is not at its best, make it a priority to properly nourish yourself, both physically and emotionally. Don't skimp on the food. It's the ultimate set up for mindless eating. And please, do something nice for yourself. Mani, anyone?

Practice body neutrality. Okay fine, you may not love your body today, but you can still show it respect. Try a more neutral approach like "I may not love what I see but I can accept it. I am more than a body."

Gather the evidence. Will people really like me more if I lose weight? Will all my problems miraculously vanish? Is my weight truly the cause of my unhappiness? I think you get it. And if you struggle with this one (as many people do), you might need to move on to number 8.

Stop the spiral. There's a great cognitive behavioral therapy tool where you imagine a stop sign to help you stop ruminating thoughts. If you notice that your head is taking you down the rabbit hole, this is about the time where you whip out this tool. If this doesn't work, go distract: read a book, watch a funny video, keep that brain of yours occuppied.

Call a body positive friend. Hopefully you have at least one person in your life on board with body positivity. Take note of these women and call them up when you need a little extra TLC. If you don't have a friend like this in your life, it's time to go out and find one!

Ask yourself this: when did hating my body ever result in anything positive? Never!
For more information about Oliver-Pyatt Centers, Clementine adolescent treatment programs and Monte Nido, please call 866.511.HEAL (4325), visit our website, subscribe to our blog, and connect with us on Facebook, LinkedIn, Twitter, and Instagram.
Join us in reading inspirational and informative articles we have cultivated from across the web. If you have found an article you feel is inspirational, explores current research, or is a knowledgeable piece of literature and would like to share with us please send an e-mail here.
Anxiety, Fears, and Things That Go Bump in the Night Psychology Today
How Weight Information Can Increase Overeating/Binge Eating Dr. Stacey Rosenfeld
Yoga May Be Good for the Brain The NY Times
If We Treated Ourselves The Way We Treat Our Children Kantor & Kantor Law
How Anorexia Causes a 'Starved Brain' Dr. Jen Gaudiani
Understanding Anorexia Nervosa in Males Psychology Today
Binge Eating and Binge Drinking: Same Origins  BEDA
For more information about Oliver-Pyatt Centers, please call 866.511.HEAL (4325), visit our website, subscribe to our blog, and connect with us on Facebook, LinkedIn, Twitter, and Instagram. 
The holiday season can be an especially challenging time for people with Binge Eating Disorder (BED). For some, it is a time of family and social gatherings where special foods are widely available. For others, it is a time when difficult feelings surface. For everyone, it is a time when we are bombarded by diet talk from the media and from family, friends and colleagues. Since dieting behavior can cause and/or sustain binge eating, it is important to make sure you don't fall into the diet mentality trap. Here are some gentle reminders to help you navigate the holiday season.
Remind yourself you can have it later.
Who says you can't make your sweet potato pie any time you want? If you believe you can't have a special holiday food for another entire year, you are likely to have it whether you are really in the mood for it or not.
Instead, promise yourself you can make turkey and mashed potatoes any time of the year, and that those special desserts can be baked or bought whenever you desire. Knowing these foods are available any time reduces the need to eat something at a holiday celebration that you don't really want at that moment.
Consider asking for the recipe or a doggie bag when you are at a holiday event. This strategy stops the worry that if you don't eat a special food immediately, such as the appetizing double chocolate caramel brownies that Grandma makes once a year, you won't be able to have it again until next year. When appropriate, you can say to your host, "The brisket looks delicious, but I'm not hungry right now. Would it be O.K. if I took some of the leftovers home for later?" Or, "This cake is fabulous. Can I have your recipe?" People are usually flattered by your desire for their food, and knowing you can eat that food later decreases the need to overeat something you're not hungry for.
Avoid becoming too hungry.
It can be tempting to "save up" your hunger for parties and special events. However, when you go without food for a long period of time, you become ravenous. At this stage of physical hunger, you are likely to eat anything and everything in sight, leading to feeling out of control.
Instead, eat in accordance with your physical hunger throughout the day. If you want to ensure you have a good appetite when you arrive at an event, try to eat enough to take the edge off your hunger before you leave home, without becoming too full. A piece of fruit, some crackers or nuts, or a slice of cheese can help you respond to your hunger so you don't walk into the party feeling desperate to eat. Then, you will truly be able to relax and feed yourself exactly what will satisfy you!
Stay compassionate with yourself.
Just about everyone overeats at times, especially during the holiday season. If you yell at yourself for your transgression, you are likely to create anxiety which actually fuels overeating. You are also likely to fall into the trap of telling yourself you might as well eat whatever you want right now because as of tomorrow – or next week or January 1st – you will have to restrict your eating. This attitude typically guarantees that you will eat more food than your body needs, leading to feeling out of control and increasing your sense of guilt.
Instead, remain gentle with yourself. Attuned/mindful eaters notice when they feel too full, and then naturally wait for their next sign of hunger to eat again. Acknowledge the discomfort you feel from overeating, and promise yourself you will do your best to wait for the next signal of physical hunger to let you know it is time to eat.
I hope these strategies will support you on your journey toward a healthy, satisfying and peaceful relationship with food!
Thank you to our Guest Blogger, Judith Matz. Judith is co-author of Beyond a Shadow of a Diet: The Comprehensive Guide to Binge Eating Disorder, Compulsive Eating and Emotional Overeating (2014 2nd Edition) and The Diet Survivor's Handbook: 60 Lessons in Eating, Acceptance and Self-Care (2006) and author of the new children's book Amanda's Big Dream (2015). She has a private practice in Skokie, IL.
www.judithmatz.com |  judmatz@gmail.com | www.dietsurvivors.com (sign up for our free newsletter) | Find us on Facebook
Parts of this article appeared in Weightless. Copyright (C) 2015 Psych Central. All rights reserved. Reprinted here with permission.
In case you aren't familiar, let me introduce myself. I am Lindsey Averill and along with my business partner, Viridiana Lieberman, I am creating a film called Fattitude. We hope Fattitude will bring awareness to and help educate people about the very clear hatred that western media culture directs at fatness and therefore enable a future that is free of weight bias and allows for any individual to have a truly healthy relationship with his or her body.
Let's be blatantly honest – when it comes to the media fat people are jokes, monsters or an epidemic. Just to be clear here are some stats:
• 72% of representations of fat people in the news are demoralizing (Obesity Action Coalition)
• In 64% of children's videos fat is related to negative traits (Eating Disorders: The Journal of Treatment and Prevention)
• A study of prime-time television shows determined that 14% of female characters and 24% of male characters were fat. These numbers represent less that half of actual fat people in the general American public. (American Journal of Public Health)
Fat people aren't presented as people; we're stereotypes and deadly statistics to be avoided.
These negative stereotypes and messages are internalized and amount to nothing good. According to the research coming out of the UCONN Rudd Center for Food Policy and Obesity, fat people, unlike other stigmatized groups "internalize stereotypes against their in-group." Or rather – our culture is so brutal and so cruel about fatness and fat people that fat people hate themselves and others like them. This has to stop.
A couple of years ago when I sat in front of my television and someone made a joke at a fat person's expense, I might have laughed. I also would have glanced around to see if anyone was looking at me, and felt like crying inside, believing that as a fat woman I deserved the shame that our culture directs towards fatness. Today, when I hear people in the media condemning or laughing at fat bodies I seethe and ache at the truth, people everywhere, thin, fat and everything in-between are suffering from the strangely invisible reality of weight bias and unchecked prejudice that is fat hatred.
We are making Fattitude for this reason. As far as I'm concerned, becoming aware of injustice is one of the ways we heal.
Want to learn more about Fattitude?
Watch their trailer, check them out on Facebook or visit them (and OPC) at the National BEDA Conference in November!
For more information about Oliver-Pyatt Centers and Clementine adolescent treatment programming, please call 866.511.HEAL (4325), visit our website, subscribe to our blog, and connect with us on Facebook, LinkedIn, Twitter, and Instagram. 
Dr. Wendy Oliver-Pyatt, MD, FAED, CEDS discusses the controversy surrounding the 'Health at Every Size' principles in relation to the treatment of Binge Eating Disorder (BED). Dr. Wendy Oliver-Pyatt will be speaking further on this topic at the upcoming '2015 Long Island Conference on Eating Disorders' on May 2, 2015 at Long Island University, CW Post Campus, Brookville, N.Y. Student Center Theater Auditorium. The conference is free of charge and open to patients, families, loved ones, and professionals. For more information and to register please visit their website.
We have known for a long time that restrictive dieting leads to temporary weight loss and more often weight cycling. We sometimes forget the weight cycling itself can be more dangerous than a stable weight, even if this weight is "overweight." The war on obesity has not worked because it is a war on our bodies. Most people with Binge Eating Disorder (BED) don't even know they have it. According to a national survey, just 3% of adults who met the criteria in the prior twelve months were actually diagnosed. Instead of getting serious help for the serious condition they face, individuals with BED spend their lives in battle with their body, and are condoned by a society who as a whole are advised to "eat less and exercise more;" with doctors acting as the number one culprit of weight stigmatization. In fact, a dear friend of mine who suffers from BED was once told by her psychiatrist, "You are fat every day, so exercise every day." Does this sound like an invitation toward health?
Will someone please tell me, why is health at every size so controversial? The following was gathered from the HAES website.
Health at Every Size (HAES) is based on the simple premise that the best way to improve health is to honor your body. It supports people in adopting healthy habits for the sake of health and well-being (rather than weight control.) Health at Every Size encourages:
Accepting and respecting the natural diversity of body sizes and shapes.
Eating in a flexible manner that values pleasure and honors internal cues of hunger, satiety, and appetite.
Finding the joy in moving one's body and becoming more physically vital.
What is written above seems so simple, reasonable, and validating; but, over the years, in the field of eating disorders, I have noticed adopting this stance is actually controversial.
My daughter was reading an article about prisons in Norway. What is interesting is that they actually treat the prisoners well and provide them with opportunities to have constructive lives and meaningful social interactions. What happens to these prisoners? They start to feel good about themselves and become contributing members of society.
When we treat people well, it brings out the best in them. When we treat ourselves well, it brings out the best in us. A war on ourselves is not likely to bring out the best in ourselves.
It is not always easy to convince a person suffering from BED that the focus must be on self-love, self-acceptance, and mindfulness (as opposed to weight loss) because they have been indoctrinated with a "no pain, no gain" mentality.
Eric Fromm states any art requires concentration, knowledge, respect, and discipline. In this model, we move the focus away from weight loss and toward the art of loving oneself and the art of living. Discipline is not punative, but instead emphasizes the discipline of self-care and living mindfully.
What we find is that this artistic process of mindful living begins to take hold for our clients. It seems to me the 'Art of Loving' by Eric Fromm and the principals contained in the Health at Every Size model have a lot in common. HAES supports adopting health habits for the sake of health and well being. What is not to love about that?
For more information about Oliver-Pyatt Centers please call 866.511.HEAL (4325), visit our website, subscribe to our blog, and connect with us on Facebook, LinkedIn, Twitter, and Instagram. 
We are so pleased to introduce you to the members of our team at Embrace, the 8-week binge eating recovery program at OPC. We are so happy for you to get to know us a little better! For additional information about Embrace, please visit our website here or call 866.511.4325.
Who are you and what is your role in Embrace?
My name is Amy Jaffe, MS,RD,LD, Nutritionist. I am the nutrition consultant for the Embrace program. I also have a private practice in Coral Gables where I have been practicing nutrition for over 20 years, specializing in eating disorders for the last 10.
Why did you want to work in the Embrace program?
I had noticed in my practice working with BED clients there was a modicum of services and treatment opportunities for this population. Since these particular clients hold a special place in my heart, when I heard that OPC was opening Embrace, I lobbied hard for the position so I could participate in support at a higher level of care.
Now that we're off and going, what has become your favorite aspect of the Embrace program?
I love love love our clients and also working with a skilled, dedicated, and compassionate team! I am proud of what we have accomplished so far and am excited to grow along with the program.
Would you rather attend Hogwarts or have a pet sasquatch?
Am I the only one on the planet who hasn't read/seen Harry Potter? I love pets, so I would choose the sasquatch and have him double as a body guard.
Would you rather have a photographic memory or gain an extra 40 IQ?
That's easy, a photographic memory. Then as a result, I would probably gain the extra 40 IQ and have it all! Although now I am not sure if it quite works that way, so I guess I should choose a higher IQ.
---
Who are you and what is your role in Embrace?
Hi, I am Megan Bendig. I am the Senior Clinician in Casa Verde, one of Oliver-Pyatt Centers' comprehensive houses. At Embrace, I run the Psychology of Movement group.
Why did you want to work in the Embrace program?
I was so excited when Embrace was conceptualized and am so grateful to be able to work with the population this program serves. I've had many clients who struggle with binge eating in my comprehensive work and have been humbled by the challenges and strengths associated with their recovery efforts. When Karin asked me to be involved at Embrace, I was all in!
Now that we're off and going, what has become your favorite aspect of the Embrace program?
Psychology of Movement group offers our clients an opportunity to explore and process their experiences surrounding movement; what messages motivate and inhibit their activity, values associated with activity, and judgments about their bodies, specifically what it is like for their bodies to be engaged in activity in a mindful and meaningful way. Being able to offer our clients a forum to explore these aspects of their experience has been the best part of my Embrace experience thus far.
Would you rather attend Hogwarts or have a pet sasquatch?
I guess I'll go with pet sasquatch. I'm not a Harry Potter fan (I know, I know…the horror!)
Would you rather have a photographic memory or gain an extra 40 IQ?
Photographic memory, without question. It would be so cool to remember everything I see. I love to travel, but never take as many pictures as I'd like, so being able to permanently store what I witness in various places would definitely be a benefit!
---
Who are you and what is your role in Embrace?
Hi! I'm Gisela Padron and I am a Primary Therapist at Embrace. I see the clients in this program for individual as well as family therapy sessions. I also facilitate several weekly group therapy sessions which include Body Image Group, Dialectical Behavioral Therapy Groups, and Therapeutic Opportunities Group.
Why did you want to work in the Embrace program?
I wanted to work in the Embrace program because I have always had an affinity for working with this population. I believe that amongst eating disorders, Binge Eating Disorder (BED) is greatly misunderstood. As a result, oftentimes well-intentioned individuals have done more harm than good to those seeking recovery from this disorder. I felt as though Embrace's individualized treatment approach was refreshing and intuitive. Professionally, it was the right fit for me because working here has given me the unique opportunity to blend many of my passions together.
Now that we're off and going, what has become your favorite aspect of the Embrace program?
This is a very difficult question for me to answer because there are several aspects of the program I enjoy very much and for different reasons. I must say I feel so blessed to work with such an amazing team of professionals. Working collaboratively with inspirational and brilliant individuals is certainly one of the perks of the job. But as I reflect further on this question, I would have to say my favorite aspect of the program is seeing how much progress these resilient clients are achieving in approximately eight weeks. It is so deeply moving to witness the transformation. I'm smiling as I type this and recall the amazing work these women have/are putting into their recovery. It is such a gift to be able to help them and be a part of their journey.
Would you rather attend Hogwarts or have a pet sasquatch?
Hogwarts! Absolutely attend Hogwarts! That would be such an amazing experience.
Would you rather have a photographic memory or gain an extra 40 IQ?
Interesting question, I suppose that out of these options I'd rather have a photographic memory.
---
Who are you and what is your role in Embrace?
My name is Carly Orshan and I am a yoga instructor with the Embrace program.
Why did you want to work in the Embrace program?
I wanted to teach yoga with this community to help patients bridge the gap between the body, mind and spirit. Yoga often teaches practitioners about life's changes, its growth, its discovery, its movement and our flexibility to embrace these fluctuations by linking our body and mind together. I wanted to be a part of a program that can help individuals stretch their bodies and souls by listening to their intuition and mindfully adapting to their environment.
Now that we're off and going, what has become your favorite aspect of the Embrace program?
I have really enjoyed getting to know the patients individually and learning what they like and dislike in regard to movement. I have been able to modify the yoga practice to best suite each practitioner's needs which has been very rewarding to do!
Would you rather attend Hogwarts or have a pet sasquatch?
This is a tough one. I've always been super fascinated with sasquatches, but Hogwarts is such a special place. After attending Hogwarts I could probably learn some techniques to spell a Sasquatch to live with me. So I would have to go with Hogwarts.
Would you rather have a photographic memory or gain an extra 40 IQ?
Photographic memory.
---
Who are you and what is your role in Embrace?
Hi, my name is Val and I am the Massage Therapist and movement leader for Embrace.
Why did you want to work in the Embrace program?
I had a friend who struggled with binge eating. I know that any Oliver-Pyatt Centers program is going to be the highest quality of service and care. The program is lead by Dr. Karin Lawson, who is a caring and compassionate vested director.
Now that we're off and going, what has become your favorite aspect of the Embrace program?
Use of the swimming pool for our classes.
Would you rather attend Hogwarts or have a pet sasquatch?
Hands down, HOGWARTS!
Would you rather have a photographic memory or gain an extra 40 IQ?
Photographic memory.
For additional posts about Embrace and Binge Eating Disorder (BED), visit here and here!
For more information about Oliver-Pyatt Centers and newly introduced Embrace, a binge eating recovery program and Clementine, a residential program exclusively for adolescents girls please call 866.511.HEAL (4325), visit our website, subscribe to our blog, and connect with us on Facebook, LinkedIn, Twitter, and Instagram.
We are so pleased to share an excerpt of 'Living with Binge Eating Disorder' by Margarita Tartakovsky, MS published yesterday on PsychCentral. Please visit here to read the full article. Director of Embrace, the binge eating recovery program at OPC, Dr. Karin Lawson, along with renowned binge eating disorder treatment professionals, was featured to shed light on binge eating disorder, dispelling a collection of myths about BED, what works and doesn't work in the treatment of this particular disorder, and valuable practices moving forward. We hope you learn from this excerpt and share with others who will benefit from this knowledge and education on binge eating disorder.
If you have binge eating disorder, please know that you're not alone. Binge eating disorder (BED) is actually the most common eating disorder. It affects about 3.5 percent of women and 2 percent of men.
You're also not weak, wrong or crazy. BED "is not a reflection of who you are as a person," said Karin Lawson, PsyD, a psychologist and clinical director of Embrace, the binge eating recovery program at Oliver-Pyatt Centers.
Binge eating may serve many functions, according to Amy Pershing, LMSW, ACSW, the executive director of Pershing Turner Centers, an eating disorder recovery outpatient clinic in Ann Arbor, Mich., and Annapolis, Md.
It might soothe stress and help you escape, especially when you've experienced trauma or significant shame, she said. "You have survived, perhaps in part because your relationship with food was a powerful coping strategy. There are better strategies now; you can learn them, and you can heal."
Some people can get better by using self-help strategies, but BED most often requires treatment. People with BED typically suffer for many years, have co-occurring physical and mental health issues and severe body image issues, which perpetuate weight cycling and exacerbate the disorder, said Chevese Turner, founder and president of the Binge Eating Disorder Association and co-founder and managing director of Pershing Turner Centers.
But the good news is that BED is highly treatable, and you can recover, said Judith Matz, LCSW, co-author of Beyond a Shadow of a Diet: The Comprehensive Guide to Treating Binge Eating Disorder, Compulsive Eating and Emotional Overeating.
Myths About BED
There are many myths about BED and its treatment. Here's a selection:
Myth: If people had more willpower, they'd stop bingeing. BED has nothing to do with willpower. Again, it's a serious disorder. This egregious myth only "contributes to the eating disorder voice that maintains and exacerbates the condition," Turner said. "For people with BED, eating feels out of control … is disconnected from physical hunger, and is often connected to other issues such as anxiety or depression," said Matz, LCSW, who treats BED in Skokie, Ill.
Myth: People with BED are "overweight." Actually, they "come in all sizes," Matz said. About 30 percent of people with the disorder are considered "normal" weight and one percent are underweight, according to body mass index, Turner said. ("There are people at higher weights who do not struggle with BED or other overeating problems," Matz said.)
Myth: "BED is treated by a 'sensible eating plan' (i.e., a diet)," Pershing said. Diets are actually contraindicated for BED and may trigger it, she said. "[T]hey can lead to weight cycling (losing and then regaining weight), which is actually hard on the body and can lead to health issues," Lawson said. Treatment requires that people with BED work through the psychological, physical and situational factors that trigger binge episodes, Pershing said. "Another diet will not change anything; all it will do it lighten your wallet and leave you with a 95 percent likelihood of regaining the weight in 3 years."
Myth: BED doesn't require the same level of intervention as anorexia or bulimia. Typically, it requires the same treatment as any other eating disorder, Pershing said. This may include: "individual therapy, nutrition professional, groups, expressive therapies [and] medication management."
To read further, please view the full article on PsychCentral here.
For more information about Oliver-Pyatt Centers and newly introduced Embrace, a binge eating recovery program and Clementine, a residential program exclusively for adolescents girls please call 866.511.HEAL (4325), visit our website, subscribe to our blog, and connect with us on Facebook, LinkedIn, Twitter, and Instagram.
Dr. Wendy Oliver-Pyatt, MD, FAED, CEDS shares her expertise and insight into the understanding and treatment of binge eating disorder.
Binge Eating Disorder (BED) is possibly the most common, and the most misunderstood of all the eating disorders. Why is this so? First, the public at large often consider those who struggle with weight to be lazy, lacking will power or initiative, and/or simply unconcerned about health. Society at large, including the medical and health care fields, routinely prescribe simplistic behavioral weight loss approaches (eat less, exercise more) to those who suffer with this condition. The cycle begins.
Weight cycling and weight gain, and further emotional suffering persists, as the person impacted by the condition is living in that horrible paradigm of learned helplessness. Damned if they don't diet (condemned by society) and damned if they do diet (weight cycling and dysregulation in their relationship with food.)
I worry about the 17,498,700 million people (40% men,) who suffer with this condition and where treatment will lead them. Many BED programs are popping up throughout the country and are often focused on weight loss and exercise, despite claims of specialized treatment. BED presents a complex biopsychosocial condition. As with working on a car, it is important to "look under the hood" when it comes to treatment for this condition.
What do we need to look out for in order to help these individuals? Treatment must be as serious as treatment for the other forms of eating disorders. Treatment for BED must target the often overlooked and undertreated co-occurring psychiatric illness that drive bingeing. Psychiatric management of this condition must be thorough and cannot merely skim the surface. More and more is being understood about executive functioning issues, mood disorders, and how anxiety and even trauma may be at play in a man or woman with BED. And, the psychotherapy component of treatment must be robust. Oftentimes, scarred with shame and fueled by weight stigma and bias, individuals (and their families) need psycho-education and a family therapy treatment component. There are biological forces at play that connect to both nutrition and metabolic functioning. Many under-identified medical conditions can be a part of the picture, and without a knowledgeable medical doctor involved, can be missed. The role of movement, and the emotional experience when faced with opportunity and expectations around movement in treatment, requires depth of thought and compassion.
This is just the beginning. Exposure therapy and mindfulness are critical to recovery. A focus on healing, self-care, and living a life driven by self-compassion and values are part of the "big picture" changes that result in the paradigm shift that take a patient from a place of pain toward recovery and then to a place of being fully recovered (a part of treatment for all eating disorders.)
With the addition of BED in the DSM V, the medical community has taken an extremely validating step forward for those who experience BED. The medical and mental health communities are demonstrating knowledge and respect for the reality of this condition and the suffering of those who are associated with this condition.
It is my hope that those who pursue treatment will have an experience that is deeply meaningful and is founded on the true reality of this complex biopsychosocial experience. I do not want to see treatment short-changed. I do not want to see the surface skimmed with simplistic care that solely targets the surface of the person's experience.
I am so proud of 'Embrace, a Binge Eating Recovery Program at Oliver-Pyatt Centers.' The name itself embodies so much of what Vicki and I personally know becoming recovered is all about. We created 'Embrace' because we wanted to provide a program that is going to change lives and empower people who need treatment that is definitive, validating, and comprehensive. It is an honor for me to work with Dr. Karin Lawson and our team of providers to create 'Embrace,' a place for individuals with Binge Eating Disorder where we can really "dive deep" and do the real work.
For more information about Oliver-Pyatt Centers and Embrace, a Binge Eating Recovery program at Oliver-Pyatt Centers, please contact admissions, subscribe to our blog, visit our website, and connect with us on Facebook, LinkedIn, Twitter, and Instagram.
Thank you to our guest blogger, Director and Founder of Metro Behavioral Health Associates (MBHA) Jennie Kramer, MSW, LCSW. Jennie has worked with individuals with eating disorders for over a decade and opened MBHA to offer comprehensive outpatient treatment for all forms of eating disorders along the spectrum. Most recently, Jennie Kramer and MBHA team member Marjorie Nolan Cohn penned "Overcoming Binge Eating for Dummies." For more information, to connect with Jennie Kramer, and to purchase this book please refer to the end of the post.
The summer months can be rough if you have Binge Eating Disorder or a problem with chronic overeating. There are many reasons: Schedules are different in the summertime, especially for parents, students and teachers. You may have a busier social life, with lots of barbecues, parties and nights out – fun, yes, but also tempting and sometimes stressful. In addition, drinking alcohol can trigger binges. You may be taking a routine-disrupting vacation or seeing family, which for some people is an emotional minefield. And then there are the stressors associated with how you feel about the way your body looks in revealing summer styles, shorts, or bathing suits.
First and foremost, it is a good idea to make a point of preparing yourself for these potential traps. Spend some time planning on what you can do to reduce the likelihood that you will binge. Don't put yourself on a strict diet, since restriction itself is associated with binge eating; plan to allow yourself reasonable-sized portions of the foods you love.
Other good ideas: Keep healthy foods in the house so you have good choices on hand when you are hungry. Ask loved ones to be a support by just listening or perhaps accompanying you while you take an afternoon to figure out what outfits look flattering. Consider splurging on a new bathing suit and wrap or cover up that make you feel good.
Even so, given the unique pressures of the season and the fact that relapses do happen, it is smart to have a plan for what you will do, if, despite your best intentions, you end up binge eating. It happens. Don't beat yourself up … remember this is an addictive behavior and, as such, usually seems automatic, compulsory and involuntary. Be gentle here. It takes time to break free of these behaviors. Consider this an opportunity to learn from what happened so you can take steps to reduce the likelihood it will happen again.
Here are some questions to ask yourself:
Was your binge related to your eating patterns? There are nutritional and emotional factors that can trigger a binge. The three most common ones are hunger (you aren't eating enough throughout the day); deprivation (you are not eating foods you enjoy) and/or hormonal or blood sugar imbalances.
How long has it been since you last binged? Instead of berating yourself for your relapse, focus on the progress you have made, however large or small.
What triggered your binge? Think about everything in the days and hours prior to your binge. Did something happen with a friend, family member, or colleague? Was there a shift in weather? Is there something about that day of the week or year that has significance to you? Were you feeling stressed about relationships, finances, or your health? Were you feeling deprived? Were you feeling pressured to look great or perform well at an upcoming social or work-related event?
How was this binge different from previous ones? Look at how much you ate – usually (though not always) relapses can involve less food.
Time-wise, was this binge similar or different to your usual pattern? You may find that you made improvements (for instance, stopping sooner than you used to) or you may notice something different about what set you off.
How did you feel before you binged? If you had been pushing certain types of feelings away (frustration, sadness, etc.), the build-up of emotions may have been a key contributing factor.
Now that you understand yourself a little better, here are some easy tips that may help you prevent another binge or over-eating episode.
If you feel tempted, ask yourself: Am I tired, hungry, or thirsty? It is common to confuse these three sensations and use food to try to solve fatigue or thirst. (It doesn't work.) Take a moment to see what the physical need really is and attend to that first.
Eat whatever you want. Don't deprive yourself – eat the food that you are thinking about. Yes, you read that correctly! Eat slowly and be aware of every bite. Enjoy it fully. Focus on and savor the tastes, texture, and aroma of the experience. Diversity, not restriction, is the key – with eating, there is no being "good" or "bad". Also, try eating all foods using a spoon or fork, even those you normally would not eat this way. Why? Doing so naturally makes you more mindful of the fact that you are eating and you will be less likely to eat handful after handful.
To stave off a binge, simply take 15 minutes to journal or write about the question: What am I really hungry for? This is "emotional hunger" and it is about feelings, not food. Just write and write – whatever you are thinking, download it on to paper. Don't edit, don't worry about spelling. Then, once you are finished with this exercise, see if you still need to partake in the eating.
But even if you try all of that, there may still be times you end up doing the very thing you want not to do. When this happens, remind yourself to "be curious, not furious."
Our book, "Overcoming Binge Eating for DUMMIES ©" offers more information on putting your binge eating days behind you. Good luck and have a great summer!
Connect with Jennie Kramer and MBHA through their blog, Facebook, LinkedIn, and Twitter.
For more information about Oliver-Pyatt Centers and Embrace, the Binge Eating Recovery program at Oliver-Pyatt Centers, please contact admissions, subscribe to our blog, visit our website, and connect with us on Facebook, LinkedIn, Twitter, and Instagram.
Weight stigma, also known as weightism, weight bias, and weight-based discrimination, is discrimination or stereotyping based on one's weight, especially larger or thinner people. Weight stigma reflects internalized attitudes towards body size that affects how those who are the targets of bias are treated.
A person who is stigmatized possesses a weight that leads to a devalued social identity, and is often ascribed stereotypes or other labels denoting a perceived deviance which can lead to prejudice and discrimination. Some common "weight-based" stereotypes are that obese persons are lazy, lack self-discipline, and have poor willpower, but also possess defects of intelligence and character. Pervasive social portrayals of people of larger body size create and reinforce biased attitudes.
Research has documented that physicians are the #2 source of weight stigma. Weight stigma has also been demonstrated in nurses and medical students, psychologists, dietitians, and fitness professionals.
Rebecca Puhl of the Yale Rudd Center for Food Policy and Obesity illustrates in the Cycle of Bias and Obesity the pursuit of help followed by the avoidance of help, likely caused by the stinging, invasive weight bias experienced by the patient. The patient may not know they were subject to weightism, and may even believe that the shaming, unhelpful remarks are warranted, deserved and appropriate, and that they are even less valuable a person and therefore avoid the doctor and pursuit of health care altogether.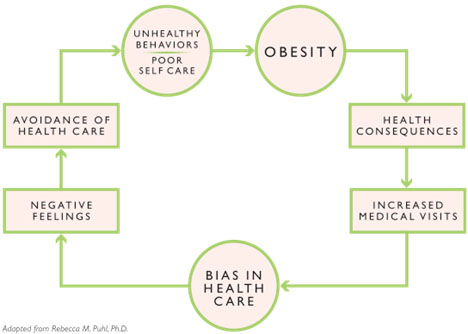 The person experiencing weight stigma is in a bind. They may seek assistance from healthcare or other providers, but the "help" can in fact reinforce and intensify shameful feelings the person experiences on a day to day, moment to moment basis. This leads to avoidance of health care, and even turning to food and bingeing to dissociate from this painful experiences.
When well-intentioned providers "prescribe" simplistic, behavioral weight loss plans (the typical eat less, exercise more mantra,) the individual with Binge Eating Disorder feels even more powerless. Not only is their shame exacerbated, their illness is being mismanaged, and they enter into a hopeless-helpless paradigm.
The truth is Binge Eating Disorder is a mental illness, and requires treatment that addresses the bio-psycho-social issues that contribute to the development of an eating disorder.
A patient told me that a physician once told her "You're fat everyday so you should exercise everyday." This statement is grounded in ignorance. It was not helpful. Worse yet, it was harmful and might have contributed to further avoidance of healthcare, shame, and ultimately, bingeing. Thankfully, this patient knew better. She found another healthcare provider rather than blame herself or avoiding the help she desperately needed.
Weight Stigma is perhaps the most recent, socially acceptable form of discrimination. I am thrilled that BEDA and NEDA are spreading the word on the insidious, destructive reality of weight stigmatization, a current reality of modern society and modern medicine. I hope we will be able to look back one day and realize how far off medicine once was, and recognize instead that attitudes and approaches founded on compassion, love and science are how we heal our patients.
© Wendy Oliver-Pyatt, MD, FAED, CEDS
For more information about Oliver-Pyatt Centers and Embrace, a Binge Eating Recovery program at Oliver-Pyatt Centers, please contact admissions, subscribe to our blog, visit our website, and connect with us on Facebook, LinkedIn, Twitter, and Instagram.
.
Dr. Wendy Oliver-Pyatt, MD, FAED, CEDS will be the featured presenter, speaking on "Health At Every Size (HAES) in the Doctor's Office: Getting What You Need and Deserve," at the upcoming Binge Eating Disorder Association (BEDA) Conference in Denver, Colorado. In the spirit of Health At Every Size, Dr. Oliver-Pyatt provides insight into the characterization and treatment of Binge Eating Disorder.  
Let's start with some facts.  According to the DSM-V, Binge Eating Disorder is characterized by several behavioral and emotional signs:
Recurrent episodes of binge eating occurring at least twice a week for six months
Eating a larger amount of food than normal during a short time frame (any two-hour period)
Lack of control over eating during the binge episode (e.g., feeling you can't stop eating or control what or how much you are eating)
Binge eating episodes are associated with three or more of the following:
Eating until feeling uncomfortably full
Eating large amounts of food when not physically hungry
Eating much more rapidly than normal
Eating alone because you are embarrassed by how much you're eating
Feeling disgusted, depressed, or guilty after overeating
In addition:
Marked distress regarding binge eating is also present
Binge eating is not associated with the regular use of inappropriate compensatory behavior (such as purging, excessive exercise, etc.) and does not occur exclusively during the course of bulimia nervosa or anorexia nervosa
BED is a psychiatric disorder and is a red flag for both medical and co-occurring psychological conditions, including but not limited to Major Depression, Post-Traumatic Stress Disorder, Attention Deficit Disorder and other serious mental illnesses.  Because it is a serious mental illness, the typical "prescription" to diet to lose weight (a simplistic behavioral recommendation) sets up the BED patient to utter failure since dieting not only sets the person up to rebound, overeat and weight cycle (we will get to that shortly), but also misses the boat as far as helping the person cope with the serious underlying illness with which the person is faced. This is an illness which requires intensive multi-disciplinary treatment, including but not limited t,o a thorough medical and psychological evaluation, psychotherapy, and nutrition management.
One of the most challenging aspects of treatment lies in the pressure the BED patient faces from healthcare providers and society at large to lose weight, because this is at odds with the need to address an underlying restrictive and shame based mindset which sets the patient up to binge.  We have discovered that our BED patients are highly restrictive in their thinking about what is allowable with food, similar to the restrictive thinking about food in Anorexia and Bulimia.  Accordingly, the BED patient may be as fearful as the anorexic about eating carbohydrates or fats when we serve her breakfast in our center.  Because they are restrictive in their thinking, the BED patient eventually will binge to compensate for the restriction, and in the binges he or she (BED Is an equal opportunity disorder; 40% of those with BED are men) will consume large amounts of calories without compensating in some way.  This is how and why the patient with BED may gain weight over the time of their illness.  What then happens is when they are told they should lose weight? They go back to restriction, and the cycle of restriction, bingeing and weight gain continues!
In order to help the patient with BED, we must address the underlying shame around eating (which is reinforced by society who tells them that fat is bad and unhealthy).  This shame around eating is intensified beyond what most of us can probably imagine when the person is of a larger size.   I often tell my patients that every binge does not start with the binge; binges start with shame and the underlying restriction.  So we must help reduce the shame, teach acceptance of the need to eat, (which is akin to teaching the importance of managing our needs), and the skill of mindful eating to our BED patients, just like we teach to our other, possibly smaller framed patients.  We have to carefully address the underlying restriction, knowing full well that the pressure to lose weight is something the patient is facing throughout each and every day of their life if they have gained weight due to their illness (again, not every BED patient is of a larger size).
In addition, another common piece of mis-information, which drives the BED patient to binge, is the common belief in our culture that people who are heavier are eating more than the rest of us, and they are eating too much.   This, of course, sends the message to the person with BED to eat less than they are eating.  We have seen, time and time again, that in a 24 hour monitored, controlled setting (with no access to food in between routine meals and snacks), the BED patient may lose little to no weight even on a very modest calorie plan and not bingeing.  What we have come to understand is that every body is different, and weight loss is not always associated with being on a lower calorie level. There is more and more science becoming available to us to help us understand how and why this may be the case.  So the result of good treatment is that the person with BED may enter into a period of stable recovery, with overall improved mood, outlook, functioning, and no bingeing or over-eating, and this newly found state of recovery is not associated with weight loss.
So when a well-intentioned person tells a person with BED (who may be larger size), that they should eat less because they are eating too much, and that this eating less will make them thinner and also healthier, and the BED patient does as s/he is told, yet does not lose weight from the lowered calorie level, and/or ends up with rebound over-eating, this is not helpful to the patient!  In addition to the confounding emotional consequences, the patient with BED is led to what is perhaps an even more serious medical consequence.
The temporary weight loss sometimes experienced from restriction and dieting, very predictably does not last.  The person is likely then to ricochet out of the restriction phase and begins binge.   This bingeing can lead to weight gain over time.  The "serial dieter" repeatedly goes from restriction to bingeing, and over time may gain more and more weight.  This cycle is called weight cycling and can lead to very serious medical/physical (and emotional) consequences.  The medical consequences of weight cycling (which can include damage to the heart and cardiovascular system, reduced bone mass, increased risk of gall-stones, physical weakness, and depression and impulsivity) may in fact be more serious and life threatening the consequences of "stable obesity".
The BED patient faces many complicated situations on a daily basis, which can compromise their overall health and well-being.   Thankfully, the new DSM-V will address Binge Eating Disorder and with that we can hope that the illness will be treated with the seriousness that is warranted.  Eventually, I hope that it will be recognized that placing a Binge Eating Disorder patient on a restrictive diet is not only crazy making, but neglectful of the complex scenario the patient is faced with.  I hope that one day, doctors will not be rated as the number two source of weight stigma (second to family members).
The war on obesity may be as much or more about weight stigmatization as it is about a concern for health but beyond this, the war on obesity may be fueling the BED patient to binge and weight cycle.  How can this be considered healthful?
Einstein said, "We cannot solve problems by using the same kind of thinking we used when we created them" and my mom used to say to me, "Wendy, the road to hell is paved with good intentions".  I always knew my mom was saying something important to, but when it comes to Binge Eating Disorder and the complicated scenario the patient is faced with, this saying is truer now more than ever.
(c) Wendy Oliver-Pyatt, MD, FAED, CEDS all rights reserved
Registration for the 2014 BEDA National Conference, being held from April 24-26, 2014 in Denver, Colorado, is now open. Please register here. We look forward to seeing you there. To connect with us at this conference, please e-mail stayconnected@www.oliverpyattcenters.com.
We are pleased to kick off the new year with a presentation from Dr. Wendy Oliver-Pyatt, MD, FAED, CEDS, entitled "Recipe for Recovery: Healing the Shame/Trauma Binge Eating Cycle," sponsored by the Eating Disorder Network of Central Florida (EDNCF). The EDNCF is a multi-disciplinary group of health and medical professionals dedicated to providing quality treatment to individuals and families suffering from eating disorders. The network is committed to increasing professional and community awareness to allow for early detection and intervention and strive to promote peer support and professional development.
Join Dr. Oliver-Pyatt as she discusses the role of shame and trauma in the development of binge eating as an adaptive survival mechanism. Shame often originates from interpersonal needs not being met or a history of fractures in the interpersonal bridges of human-to-human contact. Wendy will answer the question of how to help individuals with binge eating disorder heal from the inside out.
Participants will identify the six basic interpersonal needs of all individuals, expand their view of trauma, recognize how size discrimination, personality, and an absence of secure self-objects leads to fragmentation of the self and an increased need for reliance on food versus people as a source of strength, comfort, and soothing, and gain a foundation for helping individuals recover by applying principles of acceptance, mindful eating, and self-psychology.
The event will be held at Florida Hospital, Seventh Day Adventist Church, 2800 North Orange Avenue, Orlando, Florida on January 10, 2014 from 9:00am – 11:00am. Please RSVP to EDNCF's Alice Baker here.